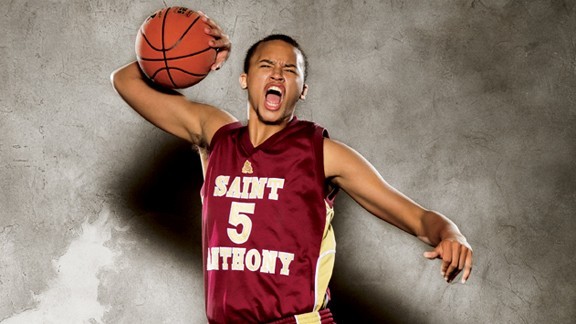 Kyle Anderson:
Class of 2012
Tweet
Written by: Prospect-Central
There is no question that the St. Anthony Friars are the most dominant high school basketball program in the state of New Jersey for nearly the past forty years. The Friars are of course coached by the legendary Bob Hurley Sr., who was selected to the Basketball Hall-of-Fame in April of 2010. St. Anthony's has won a total of twenty five state championship's, which is more than any other school in U.S. history. They have produced over one-hundred Division I college basketball player's as well as a number of NBA player's, including six first rounders. The latest star to come out of the historic program...none other than 6-foot 8-inch, UCLA commit, Kyle Anderson. Anderson, who is a top 5 player in the class of 2012, might be the most unique prospect in all of high school. With his exceptional ball handling abilities, terrific court vision and tremendous overall feel for the game, Kyle Anderson is actually a point guard despite having the size of a forward. Now is your opportunity to see for yourself if Anderson's point guard skills can translate to the collegiate level and beyond. Magic Johnson was an over-sized point guard, as was Penny Hardaway. Is Kyle Anderson next on the list??? Judge for yourself as Kyle (who scored his 1000th point in this game) and the St. Anthony Friars square off against the Newark Central Blue Devils from Jersey City, New Jersey.
*
Newark Central vs St. Anthony's, December 20th, 2011
.
ST. ANTHONY HIGH SCHOOL
( White )
Roster:
#1
Josh Brown
#2
Tony Houston
#3
Hallice Cooke
#5
Kyle Anderson (UCLA)
#10
Tariq Carey
#11
Jordan Forehand
#12
Chris Regus
#15
Kody Jenkins
#21
Kentrell Brooks
#23
Tarin Smith
#24
Tim Coleman
#30
Edon Molic
#32
Jimmy Hall (Hofstra University)
#33
Jerome Frink
#42
Jordan Compas
NEWARK CENTRAL HIGH SCHOOL
( Blue )
Roster:
#1
Jaquan Hanson
#3
Elijah Melvin
#5
Taji Williams
#10
Davion Morris
#11
Johnny Morales
#12
Brandon Waiters
#13
Yasmin Smith
#20
Al Gernon Gordon
#23
Keywon Savage
#24
Nafis Treadwell
#34
Davon Benoit
#35
Devin Huff
#45
Ty Cradle