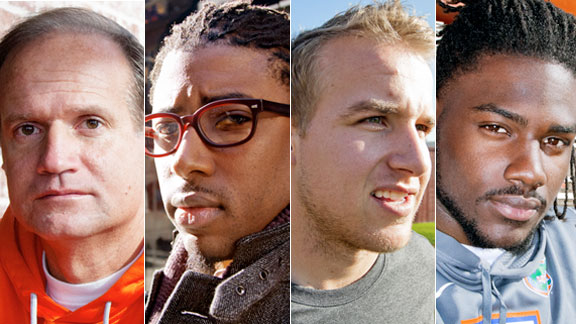 ESPN's
#1
HS Recruits:
Class of 1984-2013
Tweet
Written by: ESPN The Magazine & Prospect-Central
When Jay Berwanger, the first Heisman winner, was a high school star in Dubuque, Iowa, in the 1930s, all the college football powers wanted him. But Berwanger picked the University of Chicago based on its business program. The business of recruiting has come a long way since then. Starting in the mid-1980s, with the advent of influential recruiting publications, prep stars from across the country have gone from local heroes to national celebrities whose games are dissected down to the smallest detail. Ultimately, one senior is named the best of the blue chips each year.
ESPN The Magazine wanted to know what it truly means to be the top recruit. So we tracked down every No. 1 player of the past 28-years, based on SuperPrep magazine rankings from 1986 to 2005 (provided by publisher Allen Wallace) and ESPN's Scouts Inc. ratings afterward. Prospect-Central added recruits from 1984-85. For some, the honor led to stardom and Super Bowl rings. For others, it brought massive pressure and football flameouts. But as more than one No. 1 recruit told us, it's a title that can never be taken away. Original Article.
DE, Grayson High School (Ga.)
Now:
2011 HS Junior of the Year; two-time HS All-American; decommitted from Clemson in November of 2012; committed to Ole Miss in February of 2013.
"A lot of my coaches help me stay humble. I practice being humble also. Some people try to be humble, but I practice being humble. A lot of it has to do with my spirituality. Because of my Christianity, I want to glorify god. It's hard to live up to such high expectations, but the bottom line is I just want to go out and play the best football possible."
DE, Billy Ryan High School (Texas)
Now:
Son of former NFL player Mario Edwards; 2011 HS Defensive Player of the Year; redshirted freshman year with the Seminoles in 2012.
"When I was ranked the top recruit in high school, that definitely showed me hard work pays off. I never liked to brag about rankings though, and usually just let my play on the field do the talking. There's a lot of pressure that comes with being the No. 1 recruit, but I felt like I handled my business on the field and off it."
DE, Rock Hill High School (S.C.)
Now:
2012 Consensus All-American; 2012 Heisman Trophy Runner-Up; projected as the No. 1 pick in the 2014 NFL Draft.
"Being ranked No. 1 was a goal I set years ago. People look at you, and you get all of this attention. I get hit up by fans on Facebook and Twitter all the time. I don't know about the legacy of being the No. 1 high school player in the country, but I do know some of those guys turned out to be busts. I'm trying to make sure that's not going to be me."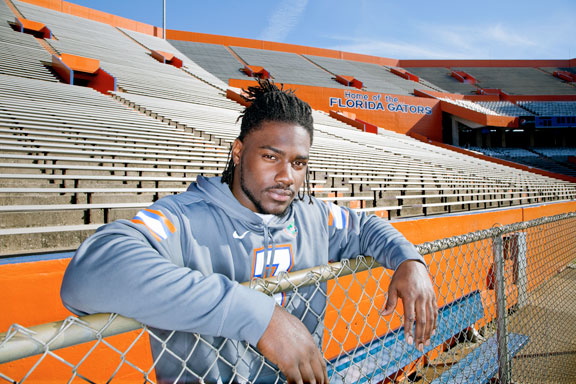 Athlete, Rancho Verde High School (Calif.)
Now:
Recovering from ACL surgery; scheduled to return to the Gators for redshirt junior year in 2013.
"I definitely didn't handle the hype as well as I should have. Right off the bat in high school, I had people saying I was going to the NFL someday. I started getting cocky. Plus, my parents had split up, and I was going back and forth between them and I was just mad all the time. I stopped caring what other people thought of me, as a player or a person. I started talking back and cussing at my teachers, getting into fights. That's when all the talk about being No. 1 went away. Word had gotten out:
I had an attitude and I would be too hard to deal with. But I had a group of people who decided they weren't going to let me blow it. Teachers, coaches and the players ahead of me in school all started calling me out, reminding me about the chance I was wasting. They got me into counseling and taught me that just having talent isn't enough. You still have to work hard in class, at practice and in the weight room. And you have to treat others with respect. You don't get to be a jerk just because you can play football."