NICHOLAS BROSSETTE:
Class of 2015
Tweet
Written by: Prospect-Central
Nicholas Brossette
RB / 6'2'' 220 / Baton Rouge, LA
Another name to remember...Nicholas Brossette!!! When watching Nicholas play football its hard to imagine that this young man has not even officially entered high school. That's not to say he hasn't had his taste of the high school gridiron. Even though Nicholas Brossette is only 14 years old and a incoming freshmen at LSU Laboratory high school in Baton Rouge, Louisiana; he all ready knows what it feels like to run over senior linebackers.
Last year while in 8th grade, Nicholas rushed for 1,024 yards and 22 touchdowns as well as catching an impressive 22 passes for 151 yards. He did this while toting the rock only 163 times. Using all my fingers and toes to do the math, I believe that averages out to 6.25 yards a carry. Those are more than respectable numbers for any high school running back, especially for one who isn't even in high school yet (lol).
You might be asking yourself how Nicholas played high school varsity football as only an 8th grader. Apparently all it takes is permission from a guardian. After a family member signed a waiver, Nicholas was given clearance to impose his will on all high school defenders that dare try and stop him.
Brossette made a name for himself performing extremely well at various football camps through out the nation. The most notable one was Schuman's National Underclassman Combine. This is one of the most prestigious football camps in the country and Nicholas was named National MVP, all while playing a year up in competition. It's scary to think what he would have done against players his own age.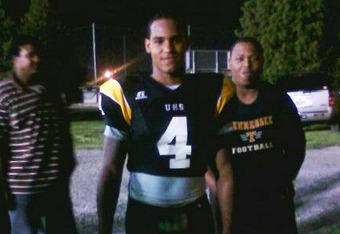 I wish I could tell you that not many people know about Nicholas Brossette and that
PROSPECT-CENTRAL
is the first to uncover this hidden gem. That's just not the case. Even though he is in the high school graduating class of
2015
and yet to start his freshmen year, Brossette is already being courted by big time D1 college programs. Basically all the schools in the
SEC
and
PAC-12
are vying for this coveted tailback. While no scholarships have been officially offered, Brossette has made unofficial recruiting visits to both USC and Alabama.
Even though Brossette starred as a tailback last season, it was actually the first year he played the position. Since he has always been the best athlete on any team he plays for, he has naturally played mostly quarterback. Look for Brossette to play both
tailback
and
linebacker
this upcoming season at LSU Laboratory. While there still is a long road ahead for the talented Nicholas Brossette, it appears he is headed in the right direction.
*
Nicolas Brossette was named
Freshman 2nd Team All-American
by MaxPreps in January.