SONY MICHEL:
Class of 2014
Tweet
Written by: Prospect-Central
SONY MICHEL
RB
/
5'11'' 195
/
Plantation, FL
/ Class of 2014
When Watching Sony Michel play football, it's hard to imagine that he's only 15 years old. Sony is in the high school graduating class of
2014
and is a flat out stud...pure and simple. Sony currently goes to American Heritage H.S. in
Plantation, FL
, where he burst onto the scene two years ago by helping lead the
Patriots
to an 9-3 overall record...as an 8th grader!!! He rushed for 1,825, 18 TD and 3 kick off return TD, all while being the youngest player on the field. If being an 8th grader playing against high school seniors wasn't challenging enough, he was also playing in the state of Florida of all places, which along with Texas and California is the "
cream of the crop
" in high school football.
The first thing that jumps out at you when watching Sony play is his blazing speed. The adjective "blazing" might actually be an understatement. Sony runs a mind boggling
10.7 100 meter dash
and a breath taking 4.41 40 yard dash, all while packing 195 pounds of muscle on a 5'11' frame and still only being 15 years old. It's a scary thought the amount of potental this young man possesses. He has the size and speed that you normally don't see from a running back and NEVER see in a 15 year old running back.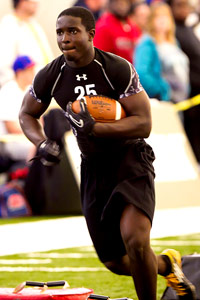 Sony has received some
Adrian Peterson
comparisons and while it's obviously to early to cement that statement in stone, it is not out of the realm of possibilities that he could become a successful NFL player one day. He already has received scholarship offers from the likes of Notre Dame, LSU, Alabama, Miami (FL), Florida St. and the 2010 National Champion Auburn Tigers to name a few.
Whatever the future holds for Sony Michel I am not sure, but it is clear that he has all the natural talent and athletic ability to dominate high school football and beyond.
*
Sony Michel
tore his ACL
in August and will miss entire 2011-12
High School Football Season
!!!