Lew Alcindor:
Class of 1965
Anderson was a child prodigy in New York, regularly drawing recruiters to his sixth-grade games, according to his Wikipedia entry. He also earned a spot on the front page of the New York City sports pages at the tender age of 14 and he became the first three-time Parade All-American since Lew Alcindor. Cited in Sports Illustrated in 1986 as the nation's top sophomore, Anderson drew comparisons to NBA greats Nate Archibald and Earl Monroe. An All-City selection four times, Anderson scored 2,621 points in his career, which stood as a City record for 16 years. After an outstanding two seasons at Georgia Tech, Anderson was the No. 2 pick in the 1991 draft. Although he never quite lived up to the early hype during his NBA career, Anderson managed to play 16 seasons and was an all-star in 1994.

(9)

KEVIN GARNETT

/

6'11'' 240

/

Farragut

/

Chicago, IL

/ Class of 95
Garnett only played one season at Farragut after moving from Mauldin, S.C., to the Chicago school for his senior season. Garnett quickly caught the attention of not only college scouts, but NBA scouts as well. After having problems achieving a qualifying score to enter college, Garnett triggered a new wave of high school players forgoing college and jumping straight to the NBA. His first workout for NBA scouts was impressive enough for Detroit Piston coach Doug Collins to label Garnett "…a genetic freak. All the great ones are." After averaging 26 points, 18 rebounds and six blocked shots his senior season, Garnett became the fifth overall pick in the 1995 draft, going to the Minnesota Timberwolves. A 12-time NBA all-star, Garnett was named the league's MVP in 2004 and the Defensive Player of the Year in 2008 after leading the Boston Celtics to the NBA championship.

(8)

JASON KIDD

/

6'4'' 210

/

St Joseph's

/

Alameda, CA

/ Class of 92
Kidd rose to national attention after leading tiny St. Joseph's High School in Alameda to back-to-back Division 1 championships, becoming the first Northern California team to win Division 1 state titles in California since the advent of the state finals in 1982. Kidd could score (2,661 career points), but he was known more for his passing and he ultimately became the state's all-time assist leader with 1,165, according to Cal-Hi Sports. His wizardry brought comparisons to NBA greats Magic Johnson and Bob Cousy, who were known for their flashy, yet brilliant passing abilities. Kidd was the No. 1 recruit in the nation, a rarity for a point guard, and signed with California, passing up overtures from Arizona, Kentucky, Kansas and Ohio State. Drafted second overall in the 1994 NBA draft, Kidd is a nine-time all-star and a five-time All-NBA first team selection.

(7)

TOM McMILLEN

/

6'11'' 215

/

Mansfield

/

Elmira, NY

/ Class of 70
Before becoming a U.S. Congressman for six years, McMillen was an NBA basketball player for 12 seasons during the 1970s and 80s. He first attracted national attention as a scoring machine at Mansfield High School in Pennsylvania where he was regarded as the nation's No. 1 recruit in 1970. He became just the second high school basketball player to ever grace the cover of Sports Illustrated (Rick Mount was the first), and he was considered the nation's most coveted player since Alcindor. He surpassed Pennsylvania greats Wilt Chamberlain, Tom Gola and Maurice Stokes on the all-time state scoring list and is still the state's all-time leading scorer with 3,608 points (including a 47-point average his senior year). Considering how many great NBA players have come out of the state of Pennsylvania, it's surprising that record is still around. Maryland ultimately won the recruiting battle for McMillen, who later played in the 1972 Olympics and became a first-round NBA draft pick by the Buffalo Braves.

(6)

GREG ODEN /

7'0'' 280

/

Lawrence North

/

Indianapolis, IN

/ Class of 06
Oden reaped all of the major national awards during his final two seasons at Lawrence North, gaining him national attention and making him the focus of every college recruiter in the country. Oden was a two-time Parade and Gatorade National Player of the Year and he also led his team to three straight Indiana state championships. Regarded in Sports Illustrated in 2004 as "The Next One", Oden was a hot recruit as early as his freshman year and was considered a potential No. 1 pick in the NBA draft as a junior in high school. Oden played one season at Ohio State in 2006, leading the Buckeyes to the National Championship game, but ultimately coming up short to the Florida Gators. Unfortunately for Blazer fans, Oden has had an injury-plagued NBA career since being chosen with the No. 1 pick by Portland in the 2007 draft.

(5)

PATRICK EWING

/

7'0'' 240

/

Rindge & Latin

/

Cambridge, MA

/ Class of 81
Ewing caused a frenzy among Boston hoop fans during his stay at Cambridge Rindge & Latin, where he led the team to an 84-5 record and three state championships his final three seasons. During his senior year, Ewing received a standing ovation from a Boston College crowd while attending the game on a recruiting trip, according to the New York Daily News. Street & Smith lauded Ewing as the nation's top player his senior year – over such future NBA greats as Michael Jordan, Karl Malone, Charles Barkley and Chris Mullin. Ewing ultimately disappointed Boston fans by choosing to play at Georgetown. Ewing was drafted #1 overall in the 1985 NBA draft and he went onto to win the Rookie of the Year. Patrick Ewing had a long illustrious career with the New York Knicks and was selected as a member of the NBA's 50 Greatest Player of All Time.


(4)

OSCAR ROBERTSON /

6'5'' 205

/

Crispus Attucks

/

Indianapolis, IN

/ Class of 56
Robertson and Crispus Attucks were the biggest attraction in Indiana in the mid-1950s. An all-black school during the segregation era, Attucks was 62-1 during Robertson's final two seasons. During his junior year, Robertson and his team played a regular season game at Butler Fieldhouse that drew 11,255, topping by 3,000 the previous largest crowd to see a high school game. Robertson led the team to two straight state titles, making Crispus Attucks the first all-black school to win a state championship. As a junior, Robertson was proclaimed to be "the greatest player in Indianapolis history" by one publication. Robertson went on to lead the NCAA in scoring three straight seasons at Cincinnati before being drafted #1 overall in 1960 by the Cincinnati Royals. Robertson had a Hall-of-Fame NBA career, winning a championship in 1971 with the Milwaukee Bucks and being selected as an all-pro eleven times

.

(3)

LeBRON JAMES

/

6'8'' 250

/

St. Vincent-St. Mary

/

Akron, OH

/ Class of 03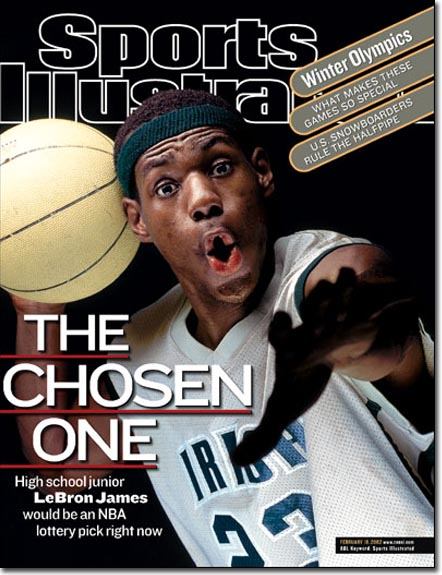 James was one of the first major high school talents to gain national media attention via cable television. Because James was such an electrifying force during high school, media giant ESPN began broadcasting James' games his senior year as St. Vincent-St. Mary went on the road to play some of the top teams in the country and eventually finish the season as the nation's No. 1 ranked team. James was also a Sports Illustrated coverboy (listed as "The Chosen One") as a junior in 2002 when he was named as the possible "next Michael Jordan." One NBA Scout even labeled James as the "best high school player I've ever seen. He is a freak." And that was after James' sophomore season. James was the first pick in the NBA draft in 2003, and went on to capture Rookie of the Year. James has a number of honors and achievements in his short career thus far. LeBron has been a two-time NBA MVP and a two-time All-Star MVP in his seven seasons in the league.
(2)

WILT CHAMBERLAIN /

7'1'' 275

/

Overbrook

/

Philadelphia, PA

/ Class of 55
How many high school basketball players inspire the NBA to change its rules? Wilt Chamberlain did. While still in high school at Overbrook in Philadelphia, Chamberlain's scoring prowess (he had 90 points in one game) motivated Philadelphia 76ers owner Eddie Gottlieb to change the NBA's territorial rights rule. In the 1950s, NBA teams had first rights to any player who competed at a local college. Because Chamberlain signed with Kansas, Gottlieb got the NBA to change its ruling to also give NBA teams territorial rights over where a player competed in high school as well. Gottlieb noted in 1954 that Chamberlain was ready for the NBA while just a junior in high school. This was absolutely unheard of at the time and just added to the legend of Wilt the Stilt. Gottlieb had to wait until 1959 to finally land Wilt, who went on to become the game's all-time leading scorer before ultimately being passed by Kareem Abdul-Jabar, Karl Malone and Michael Jordan.

(1)

LEW ALCINDOR

/

7'2'' 235

/

Power Memorial

/

New York, NY

/ Class of 65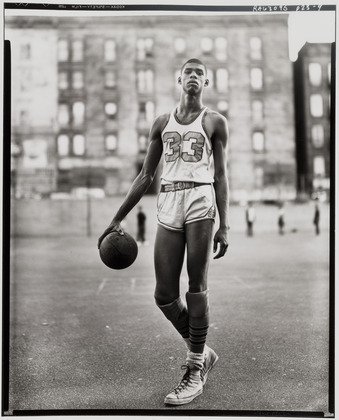 Alcindor first caught the public eye as a member of Sports Illustrated's "Faces in the Crowd" section as a 16-year-old high school junior at Power Memorial in New York. The brief paragraph mentioned that Alcindor averaged 26 points a game and was named to the Scholastic Coach All-American team for the second year in a row. In January of his senior season, Time Magazine devoted a story to the nation's top recruit. Alcindor was regarded as the next Wilt Chamberlain by many publications, but Time's article included a quote from Chamberlain who called Alcindor "the greatest high school player I've ever seen." Over 60 colleges made offers to Alcindor, who later became Kareem Abdul-Jabbar. With UCLA winning the battle for his services, Abdul-Jabbar went on to win three NCAA titles and became one of the most dominating forces college basketball has ever seen. Abdul-Jabbar was selected #1 overall in the 1969 NBA draft, won six NBA championships and finished his career as the NBA's all-time leading scorer.