JULIUS RANDLE:
Class of 2013
Tweet
Written by: Prospect-Central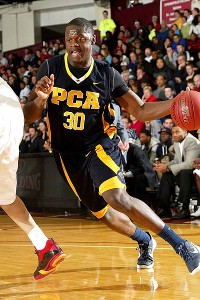 Whenever there's a discussion about who the best future pros are in high school, there's usually two names mentioned before anyone else...Jabari Parker & Andrew Wiggins. While I really can't argue with this being that both Parker & Wiggins are extremely talented and will no doubt have very successful NBA careers, I can't help but think there needs to be one more name thrown into the mix...Julius Randle!!!
The 6-foot-9, 240 pound Randle is a beast pure and simple and had a very impressive junior season for Prestonwood Christian Academy (Plano, TX). He helped the Lions to a 27-4 record while averaging 21.2 ppg, 9.2 rpg, 2.7 apg and shooting 65.2 % from the floor. Randle was also named a 1st Team All-American by Max Preps & 2nd Team All-American by ESPNHS.
Julius Randle's
currently playing very well for his AAU club Texas Titans. He's helped the Titans to an 11-3 record thus far at the prestigious
Nike EYBL
. He's averaging 17 ppg, 10 rpg, 3 apg & 1 bpg in the first three sessions of the event. He's also shooting nearly 60 % from the field. The
Texas Titans
will play again at the fourth session of the Nike EYBL in Oakland, CA from May 25th-28th.
There have been many player comparisons for Julius Randle. ESPNHS has compared him to former Golden State Warrior Billy Owens while Julius himself has compared his game to LeBron James. After I saw Julius play for the first time I immediately thought of Chris Webber. A classic inside-out player, Julius can score the ball in the post, off the dribble-drive and even has a decent mid-range game. He may not have the vision that C-Webb once had, but he's still a very good passer for his position. All in all, Julius Randle is a near lock for NBA stardom and should be a Top 3 pick in the 2014 NBA Draft.