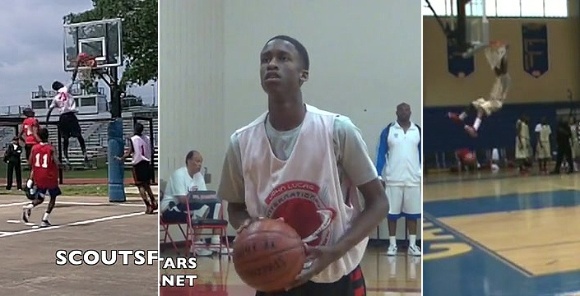 KOBI' JORDAN STEPHENS-SIMS:
Class of 2016
Tweet
Written by: Prospect-Central
The greatest basketball player of all-time is without question Michael "Air" Jordan. If anyone reading this feels differently, I have to respectively ask you to "Kick Rocks." The closest player to emulate Jordan's game, Kobe "Black Mamba" Bryant. While I'm not exactly sure the type of player you would get if the two Hall-of-Famer's were combined, there are two things I'm fairly certain would come from the experiment; he would definitely take a lot of shots & his name would be Kobe Jordan!!!
Kobi' Jordan Stephens-Sims is obviously no Kobe Bryant or Michael Jordan, but the 6-foot-4 eighth grader's game, does no shame to his name (even if it's spelled with an "I"). The native of Atlanta, Georgia is yet another talented young baller looking to make his mark on the world of high school basketball come the fall. In the meantime however, Kobi' Jordan has been playing very well in the middle school ranks.
During his eighth grade year at St. Francis Middle School (Atlanta, GA), Kobi' Jordan averaged 36 points, 11 rebounds & 8 assists and earlier this month he attended the John Lucas Middle School Combine and was one of the better looking prospects from the event. He's also been playing very well on the AAU circuit for the Under Armour Southern Kings and should continue to play at a high level throughout the summer.
Since he's only fourteen-years-old, Kobi' Jordan Stephens-Sims obviously has a long way to go before anyone can really know what type of player he can become. For the time being though, his athleticism is very impressive for his age and his smooth ball handling skills make him an intriguing prospect because of his size. And while Kobi' Jordan may never become a Kobe or Jordan...he does have one thing going for him...a Hall-of-Fame Name!!! *
Below is a highlight video from ScoutsFocus of Kobi' Jordan Stephens-Sims at the 2012 John Lucas MSC & other events.