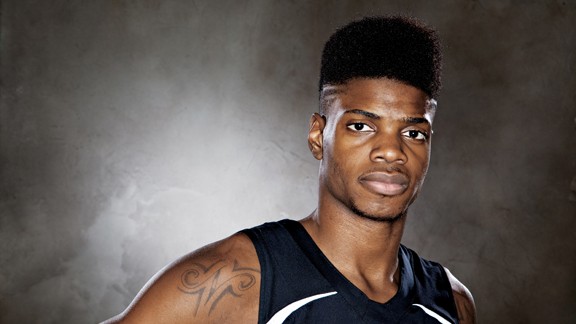 NERLENS NOEL
2012 Spalding Hoophall Classic
Tweet
Written by: Prospect-Central
The 2012 Spalding Hoophall Classic from Springfield, Massachusetts was home to some of the best high school basketball players in the nation earlier this month and the star studded field did not disappoint. There were a number of excellent performances throughout the week, which only confirmed the notion that the future of basketball is very bright. Of all the future NBA players in attendance there was one in particular that may have shined the brightest...Nerlens Noel!!! With the likes of John Calipari on hand, Nerlens Noel showed exactly why he is considered not only the best defensive player in the country, but possibly the best defensive player to come through the high school ranks in roughly a decade.
The Tilton School (Tilton, NH) is ranked #4 in the country and their match up against the #1 team in the nation Brewster Academy (Wolfeboro, NH) was one of the most anticipated games of the event. The Tilton School is obviously led by Nerlens Noel, but there are some other nice players on the team as well. Three such players are Iowa State commit Georges Niang, Top 10 player in the Class of 2014 Wayne Selden Jr and 6-foot 9-inch junior Goodluck Okonoboh. Brewster Academy has a number of big time ballers also. They're led by Michigan commit Mitch McGary, NC State commit T.J. Warren as well as high flying senior JaKarr Sampson. Nerlens Noel led The Tilton School with 22 points, 8 rebounds & 7 blocks while the leading scorer for Brewster Academy was actually Florida State commit Aaron Thomas with 23 points.
The seventeen year old Nerlens Noel (turns eighteen in April) is without a doubt a future star in the making. He's been labeled as the best shot blocker in high school since Greg Oden, but I would say there hasn't been a shot blocking force like Noel since Class of 2004 Dwight Howard. He has the length (7'3'' wingspan), athleticism & instincts to either block or alter shots at an alarming rate. While there is no question Nerlens Noel is a defensive beast, his offensive game is really starting to develop as well. He's obviously an excellent dunker because he can catch and bounce into a dunk so quickly, but he's also shown he can make jump hooks over either shoulder and the ability to put the ball on the floor and beat his man off the dribble. Nerlens Noel is certainly not a finished product. He needs to continue to work on his offensive repertoire as well as add some weight, but he appears to have all the tools necessary to become a Top 3 NBA draft pick when the time presents itself.
*
This is the entire game between The Tilton School & Brewster Academy from the Spalding Hoophall Classic on January 15th, 2012. Click "More Info" on the first video for specific details of the game and rosters of the teams.