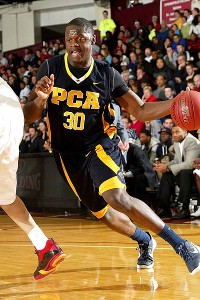 Julius Randle
2012 Spalding Hoophall Classic
Tweet
Written by: Prospect-Central
The 2012 Spalding Hoophall Classic is arguably the number one high school basketball event in the nation and this year certainly lived up to the hype. There were not only a number of future NBA players in attendance, but a number of potential lottery selections as well. With so much talent in one gym, it's almost a shame NBA general mangers weren't allowed into the event. If they were allowed access however, you better believe ALL eyes would be on Prestonwood Christian's Julius Randle!!! The 6-foot 9-inch man-child is not only considered a Top 3 player the Class of 2013, but a Top 3 player in all of high school.
Prestonwood Christian (Plano, TX) faced off against one of the best teams in the nation in Oak Hill Academy (Mouth of Wilson, VA) at the 2012 Spalding Hoophall Classic (Springfield, MA). They aren't nearly as deep a team as Oak Hill Academy, but they still have a couple nice players to go along with the future star Julius Randle. Two such players are Kansas commit Zach Peters & Top 5 player in the Class of 2015 Mickey Mitchell. While this is indeed a solid trio, Oak Hill Academy is always one of the more talented teams in the country. Oak Hill Academy are led by UCLA commit Jordan Adams, Georgetown commit D'Vauntes Smith-Rivera & NC State commit Tyler Lewis. Julius Randle led Prestonwood Christian in scoring with 23 points and contributed 9 rebounds, 3 assists & 3 blocks as well. Jordan Adams was the leading scorer for Oak Hill Academy, going for 23 points while hitting 5 threes in the process.
There are many talented high school basketball players on the verge of becoming household names in the sports world and Julius Rande is certainly one of those ballers. The seventeen year old Randle (turns eighteen in November) is possibly the best power forward prospect in high school regardless of class. His excellent size, strength, athleticism & skill level already has him drawing Chris Webber comparisons as only a junior. The lefty excels at facing up and putting the ball on the floor as well as finishing around the basket with authority. He also has a decent stroke with college three-point range and is absolutely money from the foul line. Moving forward in his career, he will need to continue work on his post play if he truly wants to take his game to the next level. If he's able to stay focused and not take his early success for granted, Julius Randle is without a doubt a future NBA Lottery selection.
*
This is the entire game between Prestonwood Christian & Oak Hill Academy from the Spalding Hoophall Classic on January 14th, 2012. Click "More Info" on the first video for specific details of the game and rosters of the teams.