AARON GORDON:
Class of 2013
Tweet
Written by: Jason Hickman & Prospect-Central
No disrespect to the NHL's San Jose Sharks, but there's only one person hailing from San Jose, California deserving of the "Shark" moniker...Aaron Gordon!!! Just like natures most feared predator, the 6-foot 8 high school junior has been devouring the competition like a shark feeding on seals. His latest conquest was last week when he led Archbishop Mitty to a California state tittle over La Costa Canyon. This was Gordon's second state tittle in as many years and he dazzled everyone in attendance with 33 points & 20 rebounds.
I officially jumped on the Aaron Gordon bandwagon last summer when I watched him earn a gold medal at 2011 FIBA Americas U16 Championship from Mexico. He led the team in scoring (17.0 ppg), rebounds (11.2 rpg) & blocks (3.2 bpg) and was just as exciting to watch as he is in the incredible mixes from YayAreasFinest. While his older brother Drew Gordon is also another talented baller and will probably be a 2nd round pick in this years NBA Draft, Aaron seems to have an even higher ceiling. There's much more than just athleticism to his game and in my opinion he's easily a Top 10 player in high school regardless of class and more than likely a future NBA lottery selection.
*
Below are two videos of Aaron's junior season from YayAreasFinest, an article from MaxPreps about his California state championship victory on March 24th, 2012 and a video about the day in the life of Aaron Gordon.
SACRAMENTO, Calif. –
Given his accomplishments, it would be understandable if Aaron Gordon
was "over" the high school basketball experience, dreaming of taking his game to the college level and beyond.
Aaron Gordon's
cool as the other side of the pillow
He won his second CIF Division II state title Friday night at Power Balance Pavilion, making it a memorable evening with 33 points and 20 rebounds as
Archbishop Mitty (San Jose) dominated
La Costa Canyon (Carlsbad) 78-57. His 20 boards were one shy of the championship game record he tied last season as a sophomore.
And that's really just the opening line on an extensive basketball resume. The versatile 6-foot-8 junior won a gold medal last summer with USA Basketball's developmental national team at the FIBA Americas Championship and runs with one of the nation's most high-profile club teams.
Washington's Lorenzo Romar and Oregon's Dana Altman were among the college coaches in attendance Friday to subtly court the future McDonald's All-American. He could start for both teams right now. Make that
star
for both teams right now.
With a year of high school left and little to prove, could it be time for Gordon to follow in the footsteps of former Bay Area standouts Brandon Ashley
and Dominic Artis
? Ashley and Artis were teammates of Gordon's last summer with the Oakland Soldiers and spent their senior seasons at
Findlay Prep (Henderson, Nevada).
That's not likely to happen with Gordon, who seems determined to leave a lasting mark on California high school basketball.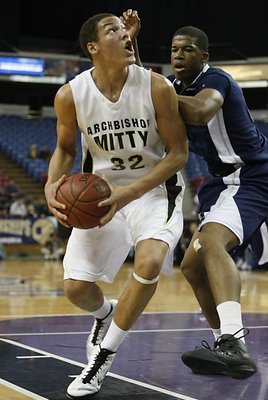 Aaron Gordon's
locked and loaded
"I want to be able to do this with the rings," Gordon said, holding up three fingers he hopes to decorate with state championship rings. "That's my motivation."
Gordon was too good to take your eyes off Friday night against La Costa Canyon, and that's pretty much the way he's been all season despite battling mononucleosis in December and January. He dunked at will, drilled a 3-pointer, brought the ball up the court on most possessions, rebounded like Kenneth Faried and locked down San Diego State-bound
Matt Shrigley.
He even illegally alley-ooped the ball to himself for a slam. The referees were apparently mesmerized – it counted.
And he did it all in very unselfish fashion. There's no hint of entitlement. No chest-pounding. Mean mugging the officials was saved for appropriate occasions. He was genuinely excited – borderline giddy – about his team's accomplishments following the game.
"This was by far our best all-around game all year," Gordon said, pointing out that Mitty (31-3) beat Northern California's state championship representatives in Division I (Sheldon) and Division III (Sacred Heart Cathedral).
"I never saw that coming," Archbishop Mitty head coach Tim Kennedy said of the lopsided victory. "I think the first thing that kind of set the tone was Aaron on Shrigley. He made it really difficult for him to get scores."
Aaron Gordon's
about to posterize a dude
Gordon – ranked No. 5 and likely to rise in MaxPreps.com's Class of 2013 Top 100 – was up for the challenge of shutting down Shrigley, La Costa Canyon's 6-6 senior wing.
"During practice we had a lot of people playing his role on the scout team," Gordon said. "Coach Kennedy even jumped in there and played Shrigley and gave me good looks. I was prepared for anything. I was prepared for Shrigley to come out and bust me for 40 points, so I just tried to lock him up as much as I could."
Gordon's next challenge will likely come on a global stage.
He's a virtual shoo-in to earn a roster spot for USA Basketball's U17 World Championship team this summer, taking him to Lithuania. Then it will be back to Mitty in an attempt to help the Monarchs become the first three-peat winner in California's Division II since Tyson Chandler led
Dominguez (Compton) to three in a row from 1999-2001. Original Article.