ERON GORDON:
Class of 2016
Tweet
Written by: Kyle Neddenriep & Prospect-Central
Over the past couple of years the landscape of college basketball recruiting has changed tremendously. It truly has become a "cut-throat" industry, which in turn has caused coaches and recruiters to try and find elite prospects before anyone else. One college coach that seems to be privy to the game, Indiana University's Tom Crean. After attending the Indy-Ball Shootout over the weekend, Crean saw all he needed to see from fourteen-year old Eron Gordon and officially offered the 8th grader a scholarship on Sunday night.
Since Eron's the younger brother of NBA star Eric Gordon, he's obviously not an unknown prospect. He's been a well established name on the AAU circuit for quite sometime and back in September he was featured in one of Prospect-Central's articles, "Ten 8th Grader's on the Rise." Whether Eron chooses to attend the alma mater of his brother or not is yet to be determined, but if he does follow in his foot steps, I'm pretty sure he'll be leaving an Adidas footprint behind. *
Below is a video of Eron Gordon scoring 30 pts in an All-Star game followed by an article from the Indy Star about Indiana University offering him a scholarship and then another 2 highlight videos from 2011-12.
Eron Gordon
is still in the eighth grade, but he's picked up his first college basketball scholarship offer.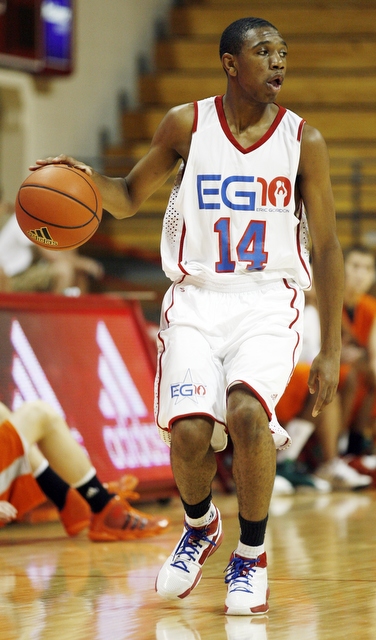 Eron Godon
surveying the scene.
Gordon, the youngest brother of former North Central High School and Indiana star Eric Gordon Jr., was offered by Indiana coach Tom Crean on Sunday night.
The 6-1 Gordon played in the IndyBall.com Shootout at North Central over the weekend, playing up an age group with the 15-and-under Eric Gordon Central Stars.
Eric Gordon Sr. said Eron will take an unofficial visit on Wednesday to Purdue. It's possible that he could receive another offer.
"He's the definition of an 'attack-the-basket' type of guard," said Pat Mullin, his travel coach. "He does a lot of things you don't expect from a player his age."
Eron Gordon
Pushing the rock
Gordon is an eighth grader at Westlane Middle School and plans to attend North Central as a freshman. Eric Gordon Jr. was Indianapolis Star Indiana Mr. Basketball at North Central in 2007, then played one season at Indiana before heading to the NBA.
Other than Indiana and Purdue; Michigan, Michigan State, Ohio State, Xavier and Wisconsin have also started to recruit Gordon, though that list figures to grow.
Eron Gordon said he doesn't worry about expectations of trying to live up to his brother. Middle brother Evan sat out this past season as a transfer from Liberty to Arizona State, where he will have two years of eligibility.
"I don't pay too much mind to (expectations)," he said. "I just play as hard as I can and hope I can be even better." Original Article.