Ricky Seals-Jones:
Football
Ricky Seals-Jones:
Basketball
Tweet
Written by: Wescott Eberts & Prospect-Central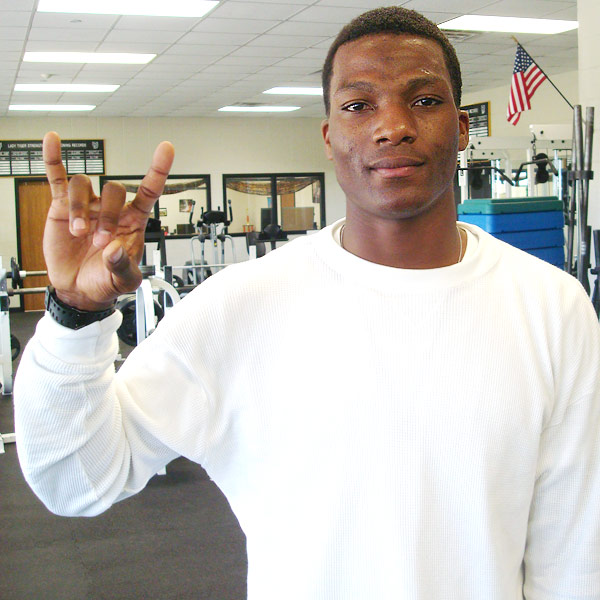 In this day and age, high school athletes are bigger, stronger & faster than ever before and trying to figure out who the best are regardless of the sport they play, is next to impossible. If push came to shove however and I had to cast a vote, the two-sport star
Ricky Seals-Jones
would most certainly be on my ballot.
The 6-foot 5, 220 pound 16-year-old from Sealy, Texas was a handful on both the basketball court & football field this past season and would have been a highly sought after recruit going into his senior year if it wasn't for committing to Texas back in February. Even though he's decided to only play football once he joins the Longhorns, Ricky Seals-Jones is still one heck of a basketball player.
While he's known mostly for football, Seals-Jones skills on the basketball court have not gone unnoticed. Yesterday he was named a
Junior All-American Honorable Mention
by Max Preps after finishing his season with a ridiculous average of 32.3 ppg, 15.2 rpg, 2.6 spg & 2.4 bpg. With numbers like this, it's hard to imagine that it's actually on the gridiron where he excels.
Ricky Seals-Jones may be an undersized four in basketball, but he's an oversized athlete in football. He's currently ranked in the Top 10 of three major recruiting services;
Espn
,
Scout
&
Max Preps
and he's just outside the Top 10 in
Rivals
&
247Sports
. While it's easy to peg him as an elite prospect, it appears to be somewhat difficult to figure out his future position.
During his
sophomore year
he played mainly wide receiver and safety for the Sealy Tigers, recording 31 catches, 512 yards & 11 touchdowns. On the defensive side of the ball he was just as solid, finishing the season with 70 tackles, 8 sacks & 5 interceptions. This
past year as a junior
, Ricky was moved to quarterback simply because he was the
teams best athlete
. Moving forward in his career, look for him to possibly develop into an elite tight end, as he is already being compared favorably to the Green Bay Packers
Jermichael Finley
.
Ricky Seals-Jones is more than ready to handle stardom. He's cousins with one of the greatest running backs in NFL history, Eric Dickerson and the Hall-of-Famer has offered a helping hand when needed. With summer fast approaching, the soon-to-be Longhorn will have one more year to dominant high school athletics before it's onto the next phase of his career. And while the NBA will remain a distant dream...the NFL is becoming a closer and closer reality. *
Below is a basketball highlight video of RSJ's junior year, an article from February of 2012 discussing his future with the Texas Longhorns, a video breakdown of his game from Next Level Athletes & Rivals and then a junior year football highlight video.
There were no hat games on Wednesday for Ricky Seals-Jones. No baby animals. No girlfriend revealing a shirt with the school of his choice. When the 6-5, 220-pounder made the decision to commit to Texas, he simply made the phone call to head coach Mack Brown with his family and then notified the assembled media that he had committed to the Longhorns.
It was hardly a shocking decision, as Texas appeared to have a significant lead for RSJ for some time, despite offers from around the country. The do-everything player for his high school in Sealy, Texas is now the sixth commit for the Longhorns in the 2013 class, joining his friend and #1 dual-threat quarterback in the entire country
Tyrone Swoopes
(Sheryl Swoopes cousin).
A star basketball player in high school who is averaging more than 30 points during his junior season, RSJ is one of the better athletes nationally for his size -- 6-5, 220 pounds. He has expressed a desire to play wide receiver in college, but could quickly outgrow the position, as he has the frame to carry 240 pounds or more in time without losing the speed that makes him a special prospect. At 3A Sealy, he also plays safety and could be an excellent outside linebacker or defensive end in college, though it's highly doubtful that he ends up on that side of the ball.
On offense, Seals-Jones mostly played quarterback for Sealy as a junior, though he did spend some time at wide receiver. A running quarterback, RSJ doesn't have the first-step explosiveness of some shorter players, but he does have solid speed when he does get going -- certainly enough to be in the upper echelon of college tight ends in that category -- and shows off some solid feet that allow him to change direction well for someone of his size. His jump cut laterally is particularly effective for taking the edge. As a result of his size and strength, he's difficult to bring down for smaller tacklers and at times has the balance to spin out of tacklers and stay on his feet.
There's not a lot of film on RSJ as a wide receiver, so it's difficult to get much of a sense of him as a route-runner, but it's probably reasonable to expect some transition time to be needed there to refine his skills. There is some evidence that he can use the leaping ability that makes him such a beast on the basketball court to high-point of the football, but he doesn't always attack the football with his hands as a pass-catcher.
If he does grow into a tight end, there will be an adjustment period for him as an in-line blocker, but based on his highlights, he's a willing blocker downfield who can take out defenders in the open field who have their heads turned. If RSJ stays at receiver for the first part of his career, his size could make him an excellent blocker on the perimeter in the wide receiver screen game and in the running game on the edge.
A left handed passer, it's also possible that Bryan Harsin could have him throw the ball on trick plays, as he has the arm strenght to push the ball downfield and throw on the run. On the other side of the ball, RSJ shows of is ball skills and instincts with a handful of interceptions and some various hits, much like Tyrone Swoopes. RSJ's athleticism is second to none in high school and seems likely to make him a can't miss prospect from the class of 2013. Original Article.
*
On June 5th Ricky Seals-Jones decommitted from the University of Teaxs because he wants to play basketball as well as football. The Longhorns would not accommodate Ricky's wishes, so he's decided to look at some schools that would. Both Baylor & LSU have given him the option of playing both sports.
12/10/12
- Ricky Seals-Jones has committed to the Texas A&M Aggies.