Marcus LoVett Jr:
1,036 points
Allonzo Trier:
1,043 points
Tweet
Written by: David Krider & Prospect-Central
With so many elite basketball players to pass through the high school ranks year after year, it's hard to imagine there has never been a high school freshman to eclipse the 1000 point plateau in a season. While no official records are kept in this category, Marcus LoVett Jr & Allonzo Trier might be the first to have accomplished this remarkable feat.
Marcus LoVett Jr. (Burbank, CA) finished his season with 1,036 points and led the entire freshmen class in scoring with 31.7 ppg. Allozo Trier (Oklahoma City, OK) was just as impressive, finishing his season with 1,043 points and an average of 22.7 ppg.
It should be of no surprise that both these baller's were able to accomplish this incredible achievement. Back in December Prospect-Central featured both Marcus LoVett Jr & Allonzo Trier as two freshmen that were off to an excellent start for the 2011-12 season. They have also been ranked in the Top 25 for the Class of 2015 ever since Prospect-Central put out it's first rankings back in July.
While they may not compete against the best competition in the nation, they still are two of the better freshmen in the country and will probably be names you hear about quite often over the next three years. *
Below is a highlight video from BallisLife of Marcus Lovett Jr's freshman year followed by an article from MaxPreps about their remarkable seasons and then a video of Allozo Trier scoring his 1000 point.
It long has been a big deal for a high school basketball player to score 1,000 points in a single season. Usually, it happens in the player's senior year.
Marcus LoVett Jr.
slicing through the defense of Marcin Gortat (lol)
That's why it's so unusual that at least two freshmen accomplished the feat during the 2011-12 campaign. No national records are kept in this category, but could they be the first ever?
The highest total went to 6-foot-2 guard Allonzo Trier,
who poured in 1,043 points (22.7 average) for the Oklahoma City Storm,
who compiled a 33-13 record and finished second in the National Homeschool Tournament. He shot 89 percent from the free throw line and 33 percent from 3-point range.
Right behind with 1,036 points was 5-11 guard Marcus LoVett Jr.,
who averaged an impressive 32.3 points for Providence (Burbank, CA),
which posted a 26-6 record in California's Division V competition.
LoVett displayed tremendous potential when he drilled 10 of 15 3-point attempts and finished with 57 points during an 85-74 victory over St. Joseph (Santa Maria, Calif.). He also out-dueled another outstanding freshman, Aaron Holiday,
during a 73-66 victory over Campbell Hall (North Hollywood, CA.).
LoVett tallied 45 points, while Holiday, whose older brother Jrue plays in the NBA, finished with 27.
They have become friends through Twitter and Facebook and kept each other up on their scoring feats throughout the season.
"We both had amazing years," Trier said.
Though neither played in top-flight Division I competition, both are among 75 players on the MaxPreps Class of 2015 Watch List.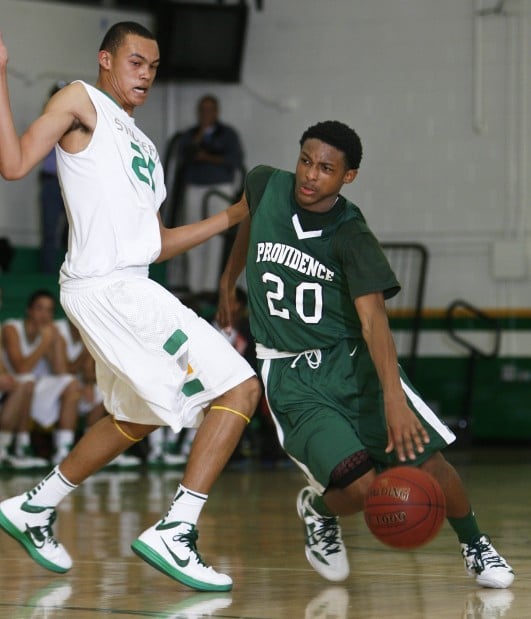 It's okay man,
Marcus Lovett Jr.
doesn't have koodies (lol)
Clark Francis of the Hoop Scoop calls them "both legitimate great players." He ranks LoVett No. 5 in the Class of 2015, while Trier is No. 22.
LoVett's
coach, Ernest Baskerville, calls him "a special player. Not many people get a chance to coach a kid with his talent. He has a great work ethic and his IQ for the game makes him really special. His age and game are two different things - he's like a senior in college. We let him pretty much run the offense."
Baskerville, a first-year coach who is a case manager for the Cochran Law Firm, said that running cross country has enabled his young star to "keep his motor running at the end of a game."
Even double- and triple-teams don't slow LoVett down because of his speed and ballhandling ability.
"We got pressed maybe four or five games because teams heard how good he was," Baskerville related. "One game he broke the press three times in a row and got layups. He averaged three steals a game.
"His future is wide open. He's going to continue to get better. He and his dad work out every day. He's already being recruited by all the Pac-12, UNLV, Marquette, Purdue, Texas and UConn."
Trier grew up in Seattle, but also lived briefly in Texas before settling in Oklahoma City. He told MaxPreps, "I've always been pretty good at putting the ball in the hole. My first game (as a second grader) I had 20 points."
Allonzo Trier
looking like a young Latrell Sprewell with the braids (lol)
As a seventh grader in Seattle he said he averaged a spectacular 40 points with a high game of 63, scoring often on steals.
Because he moved to Oklahoma City in the middle of his eighth grade year, he had to do home-schooling. He calls the home-school route "the best of both worlds. It's a great environment, getting bigger and bigger. We play all the top teams and have a great schedule."
Coach Kurt Talbott calls Trier "just a natural scorer. He reads defenses well. He can break down kids with the dribble and is a very good passer. He sees the floor like a point guard. A lot of kids looked to Allonzo when the game was on the line, even though he was a freshman. He assumed that role better as the year went along."
Talbott defends his schedule and the home school system, stressing, "We've never had a kid not qualify (for college). Our schedule from the start of the year through February is primarily 5A and 6A schools in Oklahoma. It's the best competition that will schedule us. We're not playing cupcake tams."
He revealed that some major out-of-state tournaments will be added to the schedule next year and beyond.
Not even a yellow uniform can make
Allonzo Trier
look bad (lol)
In the summer, Trier faces top AAU competition, teaming with standout guard Stephen Clark
of
Douglass (Oklahoma City)in a lethal backcourt. Insisting he's not bothered by future pressure, Trier pointed out, "I've had expectations on my shoulders all of my life."
Talbott adds, "There may be more (pressure), but as he gets older, he will be more prepared."
Trier, whose college interest lies with Kentucky and Connecticut, admits he might some day end up at a prep school, but today is quite happy in his current situation.
He noted, "I have a really good thing around me - a lot of people. I've moved a lot in my life (four times). I think I've found a home." Original Article.